Presenting my China Glaze purchases from
8ty8
From left to right - Tempest,Ruby Pumps, In awe of amber, Seche Vite Dry Fast Top Coat,Frostbite,For Audrey,Recycle
From left to right - Outta bounds, VIII,2nite,Sexy in the City, Emerald Sparkle.
I had a great deal and I am satisfied with their quick shipping and services.I definitely recommend you to try ordering from their website.
Mind you, China Glaze is ridiculously expensive here and a bottle of China glaze is around $16.00.
These are 3 of my favourite nail polish from the 12 bottles I purchased.
From left to right - Recycle, Sexy in the City, 2nite.
Swatches :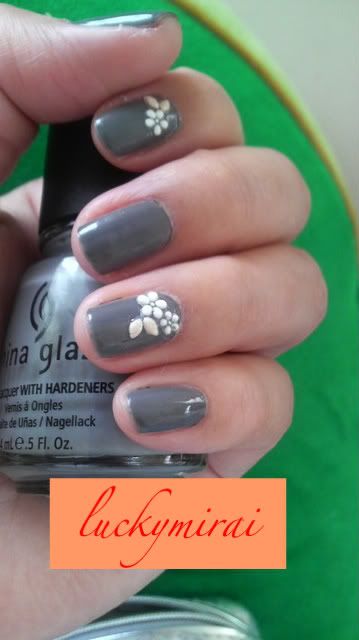 * China Glaze Recycle
thumb - VIII - index - 2nite - middle - Tempest -ring - Outta bounds - pinky - In awe of amber
thumb - Recycle - index - frostbite - middle - For Audrey - ring - Ruby Pumps - pinky - Sexy in the city.
Nail Sticker ( purchased here and it's Made in Japan )that is very pretty.
Here's the price list of nail polishes in Japan. See how pricey they are !
OPI Nail Lacquers - $22.00
China Glaze - $16.00
Essie - $19.00
Mavala - $8.00
Orly - $14.00
Seche Vite Top Coat - $21.00
Opi Top Coat - $ 21.00
LA Nail EzFlow - $.19.00
I can't wait to make another purchase and next time I will be ordering a few OPI nail lacquers ( one of my fave nail polish brand ) as well. How about you, What is your favourite nail varnish brand and your favourite colour at the moment ? Any recommendations ?